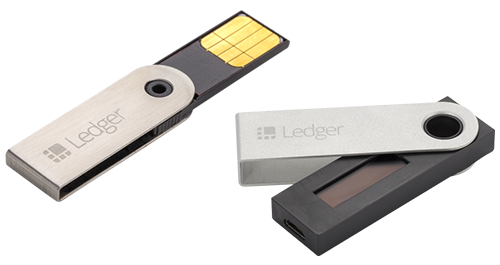 『Ledger Nano / Nano S』
(レジャー・ナノ / レジャー・ナノS)
A new inexpensive and secure, USB token-type Bitcoin wallet!
What is "Ledger"?
Ledger is a USB token-type Bitcoin wallet by the French company Ledger SAS. Compared to their competitors' products, the Ledger series is lightweight and inexpensive without compromising on safety.Just by connecting the device to the USB terminal of your PC, you can use the wallet from a web browser, and the secret keys stored securely inside the device do not leave it at any time. Even if information entered on your PC is read by viruses, malware, or keyloggers, it is impossible to remit money without the physically present device and the password, so using Ledger makes it safe to store and use Bitcoins. Since the spring of 2016, the popularity of Bitcoins has increased in Japan, and following recent price increases, it is not unusual for individuals to possess large amounts of Bitcoin. Until now, managing Bitcoins was complicated for general users, but Ledger makes it easy to store and use Bitcoins from a PC or a smartphone.
Ledger Nano(レジャー・ナノ)

Ledger Nano S(レジャー・ナノS)
What is "Ledger Nano"?
Ledger Nano is the flagship model of the very lightweight (5.87g) Ledger series, which uses an IC chip and can be inserted directly into the USB port of your PC. When doing a Bitcoin remittance or other transaction, you approve it using an encryption table on the attached security card or a dedicated smartphone application. Utilizing this approval mechanism means it is possible to separate the requestor and approver, making it ideal for business use.
About Ledger Nano Duo
Ledger Nano Duo includes two Ledger Nano's, and you can have a shared account, so it can be used for sharing by two people or for backup purposes.
About "Ledger Nano (leisure nano)" product spec
What is "Ledger Nano S"?
Ledger Nano S is the latest model in the Ledger series, and has an OLED LCD screen. It supports not only Bitcoin but also Ethereum. With this new model, as compared with the former model that required approval using a security card or smartphone application, the approval operation can now be done directly from a button on the terminal. In addition, because it supports the FIDO-compliant authentication method, Ledger Nano S can be used as is as a device for two-step authentication of services such as Gmail, Dropbox, or GitHub.
「Ledger Nano S(レジャー・ナノS)」製品スペックについて
Flexible usage environment
The Ledger Nano series can be used from a web browser in any operating system, such as Windows, OS X (Mac OS), Linux, Chrome OS, etc. No power supply is required, and you can use the Bitcoin wallet safely just by connecting the device to the USB port on your PC and opening my.ledgerwallet.com.
Safe and convenient Bitcoin wallet
Everything in the Ledger series, including the wallet on the web and the smartphone application for approval (iOS/Android), has already been made available in Japanese.Also, as with ordinary Bitcoin addresses, backup is possible simply by printing the seed string on paper, and you can restore from that string to another device at any time. For example, it is possible to change from Nano to Nano S, or use the same address on both devices.
Chrome/Chromium 38 More than

Android 4.0 More than

iOS 7.0 More than
About purchase
You can purchase on the Amazon site!
Click the button below to purchase it on Amazon.